The
Antbirds
of family
Thamnophilidae
occur in tropical and subtropical Central and South America. There are more than 200 species, known variously as
antwrens
,
antbirds
and
antshrikes
(here ordered by size with antwrens the smallest and antshrikes the largest). Other miscellaneous names for some of the species in the
Thamnophilidae
family are:
antvireos, bare-eyes, bushbird, fire-eye
s. Collective, members of the
Thamnophilidae
family are known as antbirds. They not closely related to the wrens, vireos or shrikes.
Most species live in forests and most feed in the understory and midstory of the forest, although a few feed in the canopy and a few on the ground. They feed on ants and other insects. They use a number of techniques to obtain prey. The majority of antbirds are arboreal, with most of those feeding in the understory, many in the middle story and some in the canopy. A few species feed in the leaf litter; The antbirds that forage arboreally show a number of techniques and specialisations. Some species perch-glean, perching on a branch watching for prey and snatching it by reaching forward, where others sally from a perch and snatch prey on the wing.
Thamnophilidae
are related to antpittas of family
Grallariidae
and the antthrushes of family
Formicariidae
.
Genus Epinecrophylla
Antwren,_Brown-backed
Epinecrophylla fjeldsaai
Found: southeast Ecuador, northern Peru
Image by: 1)
Cornell_Univ's_Neotropical_Birds_Online
- Dusan_Brinkhuizen
Antwren,_Brown-bellied
Epinecrophylla gutturalis
Found: Brazil, French Guiana, Guyana, Suriname, Venezuela
Sylvain_Uriot
2)
Cornell_Univ's_Neotropical_Birds_Online
- Kester Clarke
1) Female 2) Male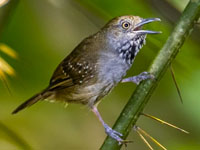 Antwren,_Checker-throated
Epinecrophylla fulviventris
Found: Honduras south to northern Columbia
Image by: 1, 2, 3)
Nick_Athanas
4)
Dominic_Sherony
1) Female 2) Juvenile male 3, 4) Male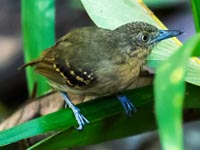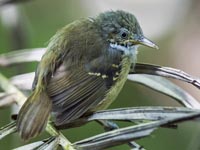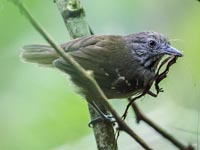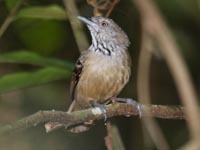 Antwren,_Foothill
Epinecrophylla spodionota
Found: Ecuador, Columbia, Peru
Image by: 1)
hbw.com
Antwren,_Ornate
Epinecrophylla ornata
Found: Bolivia, Brazil, Colombia, Ecuador, Peru
Image by: 1)
Jose_Loiza
- Ecuador 2)
Cornell_Univ's_Neotropical_Birds_Online
- Bruno_Renno in Brazil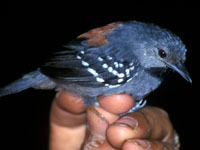 Antwren,_Roosevelt
Epinecrophylla dentei
Found: Brazil
Image by: 1)
Fabio_Schunck
Antwren,_Rufous-tailed
Epinecrophylla erythrura
Found: Brazil, Colombia, Ecuador, Peru
Image by: 1)
brendagaylebush
2)
Nick_Athanas
1) Female 2) Male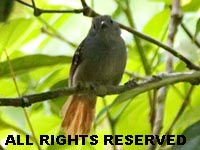 Antwren,_Stipple-throated
also
Rufous-backed Antwren
Epinecrophylla haematonota
Found: Bolivia, Brazil, Colombia, Ecuador, Peru, Venezuela
Image by: 1) Cornell_Univ's_Neotropical_Birds_Online - Daniel_Lane 2)
Ivan_Sjogren
Antwren,_White-eyed
Epinecrophylla leucophthalma
Found: Bolivia, Brazil, Peru
Maria_Ogrzewalska
2)_
Joao_Quental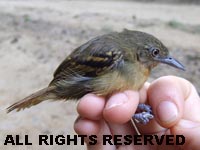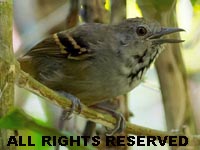 Genus Euchrepomis
Antwren,_Ash-winged
Euchrepomis spodioptila
Found: northern South America
Image by: 1)
Cornell_Univ's_Neotropical_Birds_Online
- Andrew Whittaker
Antwren,_Chestnut-shouldered
Euchrepomis humeralis
Found: Bolivia, western Brazil, Ecuador, Peru,
Image by: 1)
John_Gerrard_Keulemans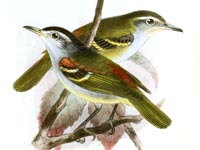 Antwren,_Rufous-rumped
Euchrepomis callinota
Found: Costa Rica, Panama, northwest South America
Nick_Athanas
2)
Cornell_Univ's_Neotropical_Birds_Online
- Juan_Pablo_Lopez_Ordonez
1) Female 2) Male
Antwren,_Yellow-rumped
Euchrepomis sharpei
Found: western Bolivia, southeast Peru
Image by: 1)
Angie_Cederlund
Genus Formicivora
Antwren,_Black-bellied
Formicivora melanogaster
Found: Bolivia, Brazil, Paraguay
Cornell_Univ's_Neotropical_Birds_Online
- Cal_Martins
2) Hector_Bottai
- Brazil 2)
Dave_Curtis
Antwren,_Black-hooded
Formicivora erythronotos
Found: state of Rio de Janeiro, Brazil
Image by: 1)
Rick_elis_simpson
2)
Nick_Athanas
3)
Hector_Bottai
1) Female 2, 3) Male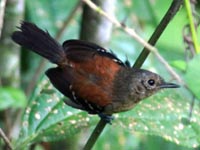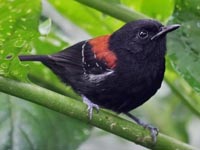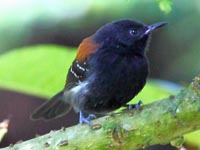 Antwren._Narrow-billed
Formicivora iheringi
Found: eastern Brazil
Arthur_Grosset
2)
Ciro_Albano
1)
Cornell_Univ's_Neotropical_Birds_Online
- Arthur_Grosse, Ciro_Albanot
1) Female 2) Male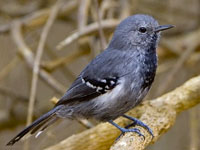 Antwren,_Restinga
Formicivora littoralis
Found: Rio de Janeiro State, Brazil
Image by: 1)
Savio_Freire_Bruno
2)
Nick_Athanas
1) Female 2) Male
Antwren,_Rusty-backed
Formicivora rufa
Found: central South America
Hector_Bottai
- Brazil 2, 3)
Nick_Athanas
- Brazil 4)
Claudio_Timm
- Brazil
1,2) Female 3, 4) Male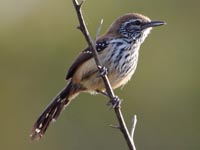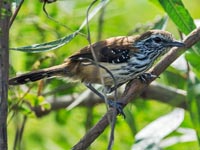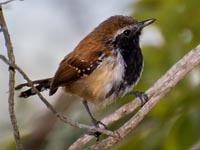 Antwren,_Sao_Paulo
Formicivora paludicola
Found: Brazilian state of Paraná
1) Male
Antwren,_Serra
Formicivora serrana
Found: mountains of southeast Brazil
Image by: 1) Savio_Bruno 2)
Nick Athanas
3)
correodesalas
1) Female 2, 3) Male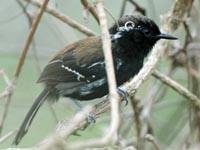 Antwren,_Sincora
Formicivora grantsaui
Found: eastern Brazil
Nick_Athanas
1) Female 2, 3) Male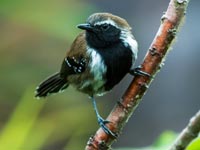 Antwren,_White-fringed
Formicivora grisea
Found: South America
New Jersy Birds
2)
Ron_Knight
- Columbia 3)
Nick_Athanas
- Columbia 4)
Fernando_Flores
- Venezuela
1, 2) Female 3, 4) Male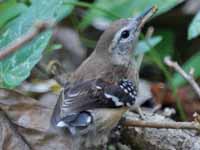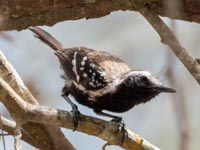 Genus Herpsilochmus
Antwren,_Ancient
Herpsilochmus gentryi
Found: Ecuador, Peru
Image by: 1)
Cornell_Univ's_Neotropical_Birds_Online
- Jose_Alvarez_Alonso
Antwren,_Aripuana
Herpsilochmus stotzi
Found: central Amazonian Brazil
Neotropical_Birds_Online
- Fabio_Schunck 2)
Fabio_Schunck
1) Female 2, 3) Male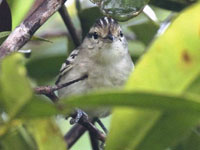 Antwren,_Ash-throated
Herpsilochmus parkeri
Found: northern Peru
Nick_Athanas
Antwren,_Black-capped
Herpsilochmus atricapillus
Found: Argentina, Bolivia, Brazil, Paraguay
Hector_Bottai
2)
Nick_Athanas
3) Claudio_Timm
1) Female 2, 3) Male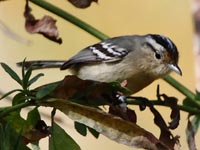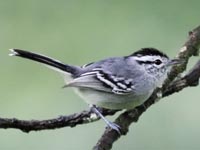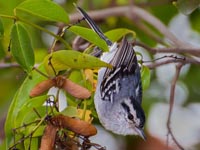 Antwren,_Bahia
Herpsilochmus pileatus
Found: narrow coastal strip in Bahia, in eastern Brazil
Image by: 1. 2)
Cornell_Univ's_Neotropical_Birds_Online
- Joao Quental, Bruno_Renno
Antwren,_Caatinga
Herpsilochmus sellowi
Found: eastern Brazil
Nick_Athanas
- Brazil 2)
Hector_Bottai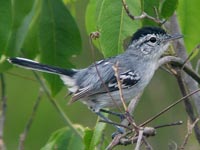 Antwren,_Creamy-bellied
Herpsilochmus motacilloides
Found: east slope Peruvian Andes
hbw.com
1)
Cornell_Univ's_Neotropical_Birds_Online
- Ashley_Banwell
Antwren,_Dugand's
Herpsilochmus dugandi
Found:
Image by: 1, 2)
Cornell_Univ's_Neotropical_Birds_Online
- Eduardo_Carrion_Letort
1) Female 2) Male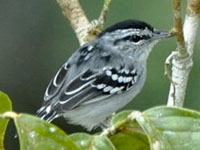 Antwren,_Large-billed
Herpsilochmus longirostris
Found: mainly Brazil, also northwest Bolivia
Claudio_Timm
- Brazil 2)
Hector_Bottai
- Brazil 3)
Andrey_Miranda
- Brazil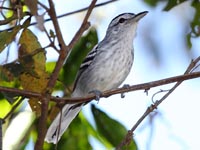 Antwren,_Pectoral
Herpsilochmus pectoralis
Found: northeast Brazil
Cornell_Univ's_Neotropical_Birds_Online
- Anselmo_d'Affonseca
3)
Arthur_Grosset
4)
Nick_Athanas
1) Female 2, 3, 4) Male
Antwren,_Predicted
Herpsilochmus praedictus
Found: Amazonian Brazil
Image by: 1)
Cornell_Univ's_Neotropical_Birds_Online
- Christian_Borges_Andretti
Antwren,_Roraiman
Herpsilochmus roraimae
Found: Brazil, Guyana, and Venezuela
Cornell_Univ's_Neotropical_Birds_Online
- Thiago_Laranjeiras
Antwren, Rufous-winged
Herpsilochmus rufimarginatus
Found: South America
Dario Sanches
1) Female 2) Male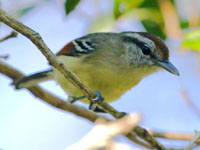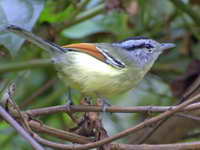 Antwren,_Spot-backed
Herpsilochmus dorsimaculatus
Found: northern Brazil, eastern Colombia, sothern Venezuela
Cornell_Univ's_Neotropical_Birds_Online
- Anselmo_d'Affonseca
1) Female 2) Male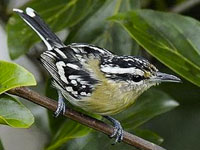 Antwren,_Spot-tailed
Herpsilochmus sticturus
Found: northeast South America
Image by: 1)
hbw.com
Antwren,_Todd's
Herpsilochmus stictocephalus
Found: northeast South America
Image by:
1,
2) Marc_Chretien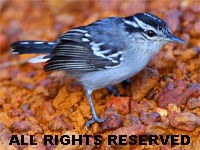 Antwren,_Yellow-breasted
Herpsilochmus axillaris
Found: Columbia, Ecuador, Peru
Image by:
1,
2) Gary Clark
- Ecuador 3)
Nick_Athanas
4)
Dave_Curtis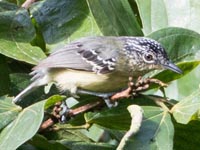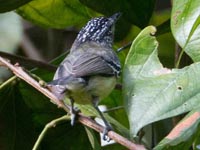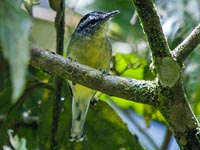 Genus Isleria
Antwren,_Plain-throated
Isleria hauxwelli
Found: north-central South America
Cornell_Univ's_Neotropical_Birds_Online
- Susana_Cubas_Poclin, Luiz_Matos
Arthur_Grosset
- Brazil 2)
Marianne_Batchelder
- Peru 3)
Bruno_Renno
1) Female 2) Male
Antwren,_Rufous-bellied
Isleria guttata
Found: northern Brazil, Venezuela
Image by: 1)
Cornell_Univ's_Neotropical_Birds_Online
- Joao_Quental, Kurazo Okada 3)
Hector_Bottai
1) Female 2, 3) Male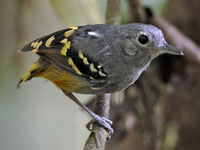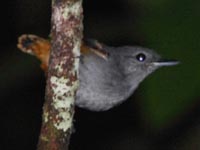 Genus Microrhopias
- 1 species
Antwren,_Dot-winged
Microrhopias quixensis
Found: Mexico south to western Ecuador, northern Bolivia and central Brazil
Image by: 1) Dave_Curtis - Panama 2, 3) Jorge_Montejo - Mexico 4) Nick_Athanas - Ecuador
1, 2) Female 3, 4) Male




Genus Myrmotherula

Antwren,_Alagoas Myrmotherula snowi Found: east Brazil
Arthur_Grosset



Antwren,_Amazonian_Streaked Myrmotherula multostriata Found: northern South America
Hector_Bottai - Brazil 2) Claudio_Timm - Brazil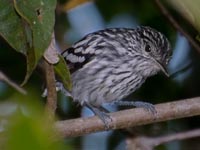 Antwren,_Ashy also Yungas Antwren Myrmotherula grisea Found: Bolivia
Image by: 1) Cornell_Univ's_Neotropical_Birds_Online - Daniel_Lane. Joe_Tobias
1) Female 2) Male



Antwren,_Band-tailed Myrmotherula urosticta Found: coastal southeast Brazil
Cornell_Univ's_Neotropical_Birds_Online - Arthur Grosset, Rafael_Alves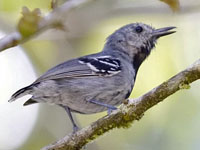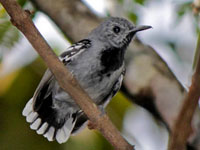 Antwren,_Cherrie's Myrmotherula cherriei Found: northwest Brazil, eastern Columbia, southwest Venezuela
Nick_Athanas - Columbia 2) Tony_Morris - Venezueal
1) Female 3, 4) Male



Antwren,_Gray Myrmotherula menetriesii Found: South America
Cornell_Univ's_Neotropical_Birds_Online - Susana_Cubas_Poclin
1) Female 2) Male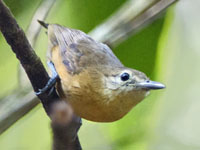 Antwren,_Guianan_Streaked Myrmotherula surinamensis Found: northeast South America
Feroze_Omardeen 2, 3) Cornell_Univ's_Neotropical_Birds_Online - Timothy_Boucher, Daniel_Hinckley
1, 2) Female 3) Male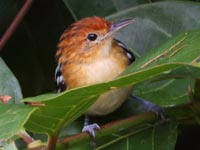 Antwren,_Ihering Myrmotherula iheringi Found: Bolivia, Brazil, Peru
1, 3) Joe Tobias 2) Lars_Petersson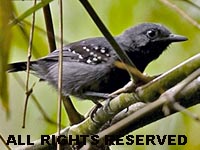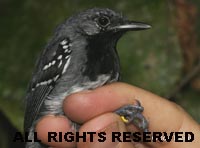 Antwren,_Klages's Myrmotherula klagesi Found: northern Brazil
Cornell_Univ's_Neotropical_Birds_Online - Thiago_Laranjeiras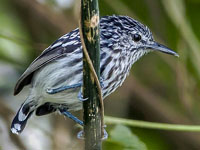 Antwren,_Leaden Myrmotherula assimilis Found: Bolivia, Brazil, Colombia, Peru
Thiago_Laranjeiras 2) Claudio_Timm
1) Female 2) Male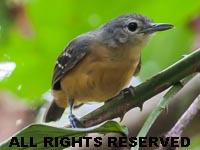 Antwren,_Long-winged Myrmotherula longipennis Found: north-central South America
Philip_Stouffer - Brazil 2) Rafael_De_La_Colina 3) Angelica_Hernandez_Palma 4) Bruno_Renno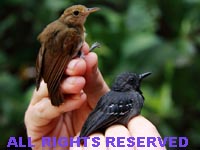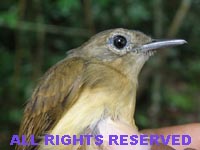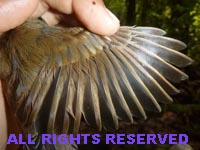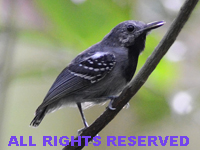 Antwren,_Moustached Myrmotherula ignota Found: Panama, Columbia, Ecuador, Peru
Nick_Athanas - Panama 3) Cornell_Univ's_Neotropical_Birds_Online-Trevor_Ellery - Columbia
1, 2) Male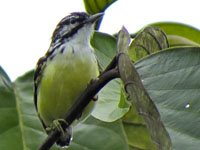 Antwren,_Pacific Myrmotherula pacifica Found: Panama, Columbia, Ecuador
Nick_Athanas - Columbia 3) Aaron_Maizlish - Panama
1) Female 2, 3) Male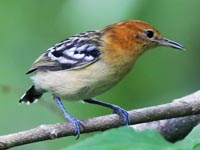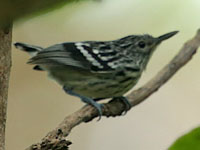 Antwren,_Plain-winged Myrmotherula behni Found: Brazil, Colombia, Ecuador, French Guiana, Guyana, Venezuela
Cornell_Univ's_Neotropical_Birds_Online - Roger_Ahlman, Bigal River_Conservation_Project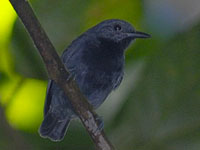 Antwren, Pygmy Myrmotherula brachyura Found: northern South America
Cornell_Univ's_Neotropical_Birds_Online - Edward Landi, Henry_Cook 2) Hector_Bottai 3) Claudio_Timm
1) Female 2, 3, 4) Male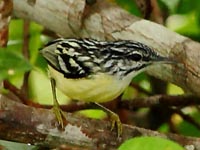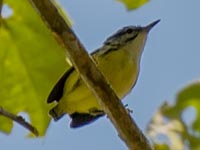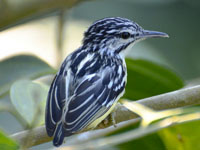 Antwren,_Rio_de_Janeiro Myrmotherula fluminensis Found: Brazil
hbw.com



Antwren,_Salvadori's Myrmotherula minor Found: southeast Brazil
Cornell_Univ's_Neotropical_Birds_Online - Ciro_Albano 3) Nick_Athanas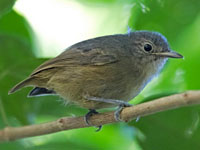 Antwren,_Sclater's Myrmotherula sclateri Found: western Brazil, northern Bolivia, eastern Peru
Cornell_Univ's_Neotropical_Birds_Online - Joao_Quental



Antwren,_Silvery-flanked Myrmotherula luctuosa Found: eastern Brazil
Image by: 1) Nick_Athanas



Antwren,_Slaty Myrmotherula schisticolor Found: Mexico south to Ecuador, Peru
Cornell_Univ's_Neotropical_Birds_Online - Will_Sweet 2, 4) Nick_Athanas - Ecuador 3) Francesco_Veronesi
1, 2) Female 3, 4) Male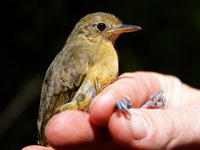 Antwren,_Star-throated Myrmotherula gularis Found: Brazil
Image by: 1, 2) Dario Sanches 3) Nick_Athanas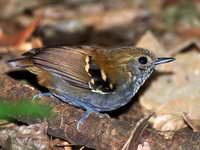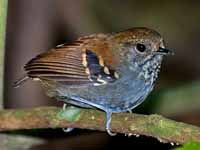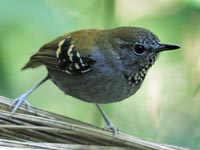 Antwren,_Stripe-chested Myrmotherula longicauda Found: Bolivia, Columbia, Ecuador, Peru
Cornell_Univ's_Neotropical_Birds_Online - Roger_Ahlman 2) Francesco_Veronesi
1) Female 2) Male



Antwren, Unicolored Myrmotherula unicolor Found: southeast Brazil
Marcel Holyoak 2, 3) Dario Sanches - Brazil 4) Nick_Athanas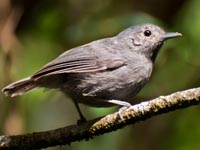 Antwren,_White-flanked Myrmotherula axillaris Found: Central America, northern and middle South America
Image by: 1, 3) Andres_Cuervo 2, 4) Nick_Athanas
1, 2) Female 3, 4) Male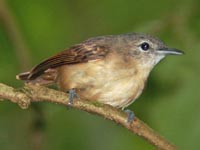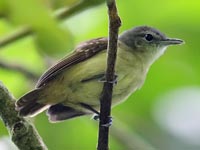 Antwren,_Yellow-throated Myrmotherula ambigua Found: northwest Brazil, easterm Columbia, southwest Venezuela
Cornell_Univ's_Neotropical_Birds_Online - Ian_Davies




Genus Stymphalornis - 1 species

Antwren,_Parana Stymphalornis acutirostris Found: Brazilian state of Paraná
Aaron_Maizlish 2) Joao_Quental
1) Female 2) Male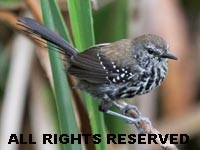 Genus Terenura

Antwren,_Orange-bellied Terenura sicki Found: Brazil
Image by: 1) Ciro_Albano 2) Lars_Petersson



Antwren,_Streak-capped Terenura maculata Found: Argentina, Brazil, Paraguay
Claudio_Timm 2) Nick_Athanas 3) Aisse_Gaertner
1) Female 2, 3) Male