The
laughingthrushes
are a family of mostly Old World passerine birds. These are birds of tropical areas, with the greatest variety in Southeast Asia and the Indian Subcontinent. The entire family was previously included in the Timaliidae, the Old World babblers. Some birds in
Leiothrichidaeare
are also called babbler's.
They are small to medium sized birds. They have strong legs, and many are quite terrestrial. They typically have generalised bills, similar to those of a thrush. Most have predominantly brown plumage, with minimal difference between the sexes, but many more brightly coloured species also exist. They are vocally noisy birds.
The
Leiothrichidae
are divided in this presention as follows
Babbler
: babax, babbler, chatterer
Fulvetta
: cutia, fulvetta
Laughingthrush
: babax, hwamei, laughingthrush
Other
: barwing, leiothrix, liocichla, mesia, minia, sibia
BABBLERS and Allies
The
Leiothrichidae
babblers used to be included in the Timaliidae, the Old World babblers.
Genus Babax
Also placed in genus
Garrulax
or
Ianthocincla
Babax, Chinese
Babax lanceolatus
Found: China, Hong Kong, India, Myanmar
Image by: 1)
Josephe Huet
2)
Michelle and Peter Wong
Babax, Giant
Babax waddelli
Found: India, Tibet
Image by: 1)
Johan Bosch
2) Frode Falkenberg
Babax, Tibetan
Babax koslowi
Found: China
Image by: 1)
Tang Jun
Genus Kupeornis
Also consider part of genus
Turdoides
Babbler, Red-collared Mountain-
Kupeornis rufocinctus
also
Turdoides rufocinctus
Found: Burundi, the Congo, Rwanda, Uganda
Image by: 1)
John Caddick
Babbler, White-throated Mountain-
also
White-throated Babbler
Kupeornis gilberti
also
Turdoides gilberti
Found: Cameroon, Nigeria
Image by: 1)
Marcel Holyoak
- Cameroon
Genus Phyllanthus
- 1 species
Babbler, Capuchin
Phyllanthus atripennis
also
Turdoides atripennis
Found: Africa
Image by: 1)
Joseph Smit
2)
Nathan Rupert
3)
Pinned

Genus Turdoides
The
Turdoides
species are distributed mainly in southern Asia with some also in Africa. They are typically fairly large, long-tailed birds which forage in noisy groups. The majority of species have drab brown or gaey-brown plumage. Most babbvlers do not migrate.
Babbler, Afghan
Turdoides huttoni
Found: Iraq, Iran, Afghanistan, Pakistan Image by: 1)
Omar430
Babbler,_Arabian
Turdoides squamiceps
Found: Middle East Image by: 1)
Yoavd
2)
Sergey Yeliseev
- Israel 3)
Artemy_Voikhansky
- Israel 4)
Yitzchak_Ben_Mocha
Babbler,_Arrow-marked
Turdoides jardineii
Found: Africa Image by: 1)
Alan Manson
- South Africa 2)
Joseph Mochoge
- Kenya 3)
Derek_Keats
- Zimbabwe 4)
Bernard_Dupont
5)
Charlie Westerinen
- Zimbabwe
Babbler, Bare-cheeked
Turdoides gymnogenys
Found: Angola, Namibia
Image by: 1)
Ron Knight
- Namibia 2)
Jerry Oldenettel
- Namibia 3)
Cristiano Crolle
- Etosha Nat.Park, Namibia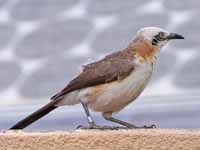 Babbler,_Blackcap
Turdoides reinwardtii
Found: Africa Image by: 1)
Charles_J_Sharp
- Gambia 2)
Frans_Vandewalle
- Gambia 3)
lohman-braun
- Gambia
Babbler,_Black-faced
Turdoides melanops
Found: Angola, Botswana, Namibia Image by: 1)
Ron_Knight
- Namibia 2)
Jerry_Oldenettel
- Namibia
Babbler,_Black_Lored
also
Sharpe's Pied Babbler
Turdoides sharpei
Found: Burundi, DR Congo,Kenya, Rwanda, Tansania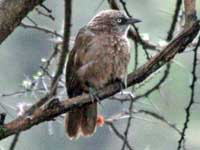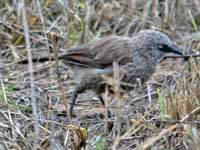 Babbler,_Brown
Turdoides plebejus
Found: central Africa Image by: 1)
Steve Garvie
- Gambia 2)
Peter Steward
- Kenya 3)
Francesco_Veronesi
- Kenya 4) Frans_Vandewalle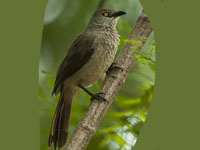 Babbler,_Common
Turdoides caudata
Found: Pakistan, India, Bangladesh Image by:
1,
2,
3) JM
Garg - India 4)
Aaron_Maizlish
- India
Babbler, Dusky
Turdoides tenebrosa
Found: Africa
Image by: 1)
Volker Sthamer
Babbler, Hartlaub's
Turdoides hartlaubii
Found: Africa Image by: 1)
Lip Kee
- Botswana 2)
Bernd Hinrichsen
- southern Africa 3)
Ian White
- Botswana
Babbler, Hinde's
Turdoides hindei
Found: Kenya
Image by: 1)
Francesco Veronesi
2)
Peter Steward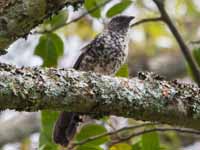 Babbler, Iraq
Turdoides altirostris
Found: Iraq, Iran, India (rare) Image by: 1)
JM Garg
- India 2)
Wildlife Fred
Babbler,_Jungle
Turdoides striata
Found: Asia Image by: 1)
J M Garg
- India 2)
Anirban_Chakraborty
3)
Nishad_Hussain_Kaippally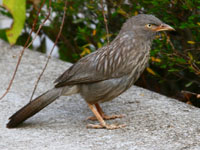 Babbler,_Large Gray
Turdoides malcolmi
Found: India, Nepal Image by: 1) L_Shyamal
2,
3,
4) JM Garg
- India
Babbler,_Northern_Pied-
Turdoides hypoleuca
Found: Kenya, Tanzania
Image by:
1)
Dick Daniels
-
Kenya 2)
Sergey Yeliseev
- Kenya 3)
Valentina_Storti
- Kenya 4) EcologyWeb - Kenya
1) Identified by Jose Mochoge
Babbler,_Orange-billed
Turdoides rufescens
Found: Sri Lanka Image by:1)
Lain Robson
2)
Raveen and Varuni
3)
Rehman_Abubakr
Babbler,_Rufous
Turdoides subrufa
Found: Western Ghats of southern India Image by: 1)
NA Naseer
2)
Faisalmagnet
3)
Alastair_Rae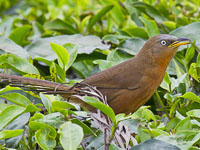 Babbler, Scaly
Turdoides squamulata
Found: Ethiopia, Kenya, Somalia Image by: 1)
Steve Garvie
- Ethiopia
Babbler,_Slender-billed
Turdoides longirostris
Found: India, Myanmar, Nepal
Image by: 1)
Md Imran
2)
Nejib_Ahmed
- India
Babbler, Southern Pied
Turdoides bicolor
Found: Botswana, Namibia, South Africa, Zimbabwe Image by:
1,
2) Derek Keats
- South Africa 3)
Monkey Boy
4)
Alex Thompson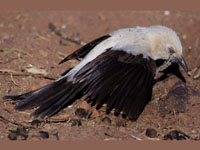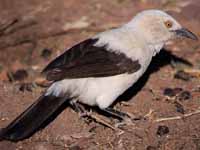 Babbler, Spiny
Turdoides nipalensis
Found: Nepal
Image by: 1)
Jyotendra Thakuri
- Nepal
Babbler,_Striated
Turdoides earlei
Foiund: southern Asia
Image by: 1)
Munish_Jauhar
2)
Aaron_Maizlish
- India
Babbler, White-headed
also
Cretzschmar's Babbler
Turdoides leucocephala
Found: Eritrea, Ethiopia, Sudan
Image by:
1,
2) United Nations
- Sudan
Babbler, White-rumped
Turdoides leucopygia
Found: Eritrea, Ethiopia, Somalia, South Sudan
Image by:1)
Sergey Yeliseev
- Ethiopia 2)
GrahamC57
- Ethiopia
Babbler, White-throated
Turdoides gularis
Found: Burma (Myanmar)
Image by: 1)
MarnixR
2)
Martin_Grimm
Babbler,_Yellow-billed
Turdoides affinis
Found: southern India, Sri Lanka Image by: 1)
Peter_Steward
- India 2)
Mr_Bird_Brain
3,
4) JM Garg
- India 5)
yim hafiz
4)
Chatterer,_Fulvous
also
Fulvous Babbler
Turdoides fulva
Found: Africa Image by: 1)
Wayne Geater
- Morocco 2)
Opisska
Chatterer, Rufous
Turdoides rubiginosa
Found: Africa
Image by: 1)
Dick Daniels
- specimen in
Nairobi National Museum
, Kenya 2)
Yathin
- Tanzania 3)
Dave Curtis
- Kenya
Chatterer,_Scaly
Turdoides aylmeri
Found: Africa
Image by: 1)
Dick Daniels
- specimen in
Nairobi National Museum
, Kenya
2,
3) Peter Steward
- Kenya