FOUND mainly in

Australasia
Asia, Europe
Madagascar
Africa, Asia

Africa, Asia, Australasia
Africa, Asia, Australasia
Africa
Asia

New World
Asia, Europe
Africa, Asia, Europe, NA
Africa, Asia, Europe

COMMON NAME

Australian Warblers
Reed Warblers
Malagasy warblers
Bush Warblers

Apalis, Cisticola, Tailorbird
Grass Warblers and allies
African Warblers
Parrotbills

New World Warblers
Leaf-Warblers
Kinglets
Typical Warblers

Sylvidae
used to contain over 400 species, many of which were only distanlty related. Most of the species have been moved into newly created families that DNA evidence suggest are more closely related. The present Sylvidae family contains the "true warblers" of Genus Syvlia and some other species that may or may not be a closely related.
Genus Lioptilus
- 1 species
Blackcap,_Bush
Lioptilus nigricapillus
Found: South Africa, Swaziland
Image by: 1)
Johann_du_Preez
2)
Alan_Manson
- South Africa
1) Juvenile
Genus Parophasma
- 1 species
Catbird,_Abyssinian
Parophasma galinieri
Found: Ethiopia
Image by:
1,
2) Thomas_Varto_Nielsen
Genus Sylvia
The "typical warblers" occur in temperate to tropical regions of Europe, western and central Asia, and Africa. They have a slightly thicker bill than many other warblers, They are usually gray and / or brown, usually darker above and paler below. The tail is usually square-ended. A third of the species also have a red eye ring in males. They are commonly associated with open woodland, scrub, hedges or shrubs.
Babbler,_African_Hill
Sylvia abyssinica
also
Pseudoalcippe abyssinica
Found: Africa
Image by: 1)
Francesco_Veronesi
- Kenya 2)
Thomas_Varto_Nielsen
- Ethiopia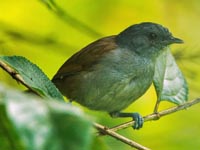 Babbler,_Dohrn's_Thrush-
Sylvia dohrni
also
Horizorhinus dohrni
Found: São Tomé and Príncipe (off west coast of central Africa)
Image by: 1)
Joseph_Smit
2)
Nik_Borrow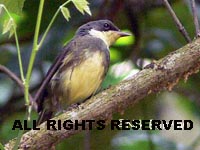 Blackcap
also Eurasian Blackcap
Sylvia atricapilla
Found: Europe
Image by: 1)
Vogelartinfo
2)
Jakub Stanco
3)
Cayambe
4)
Cristiano Crolle
1) Female 2, 3, 4) Male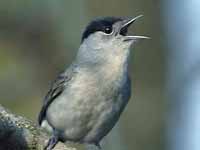 Warbler,_African_Desert
Sylvia deserti
Found: from southern Morocco east to western Libya and south to Mali and Niger Image by: 1)
Peter_Lindenburg
Warbler,_Arabian
Sylvia leucomelaena
Found: southwest Asia Image by: 1)
John_Gerrard_Keulemans
2)
Marcel_Holyoak
- Israel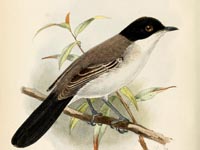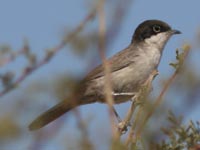 Warbler,_Asian_Desert
Sylvia nana
Found: northeast Africa, deserts of Asia Image by: 1)
Sameh_Odeh
- Qatar 2)
Marcel_Holyoak
- Israel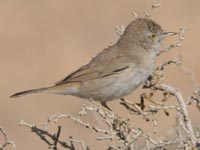 Warbler,_Barred
Sylvia nisoria
Found: Africa, Asia, Europe Image by:
1,
3)
Radovan_Vaclav
- Slovakia 2)
Artur_Mikolajewski
- Poland
1) Juvenile
Warbler,_Brown
also
Brown Parisoma
Sylvia lugens
also
Parisoma Lugens
Found: Africa Image by:
Joseph Mochoge
- Eburu Kenya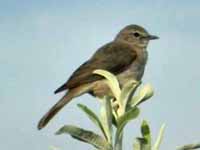 Warbler,_Cyprus
Sylvia melanothorax
Found: breeds Cyprus; winters Israel, Jordan, Egypt Image by: 1)
Ensind
- Cyrus
Warbler,_Dartford
Sylvia undata
Found: western Europe, northwestern Africa Image by:
1,
3) Paul_Roberts
2)
Carles_Pastor
4)
chausinho
1, 2) Female 3, 4) Male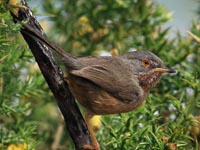 Warbler,_Marmora's
Sylvia sarda
Found: Mediterranean islands, north Africa Image by: 1)
Francesco_Veronesi
- Italy
Warbler,_Menetries's
Sylvia mystacea
Found: southwest Asia Image by: 1)
Durzan_Cirano
2)
Werner_Witte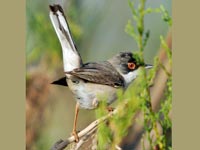 Warbler,_Moltoni's
Sylvia subalpina
Found: southern Europe, Balearic Islands in the Mediterranean
I mage by: 1)
picus_picus
2)
Daniele_Occhiato
Warbler,_Rueppell's
Sylvia rueppelli
Found: Greece, Turkey, northeast Africa Image by: 1,
4) Michael_Sveikutis
2)
Sergey_Yeliseev
- Turkey 3)
Durzan_Cirano
1) Female 2, 3, 4) Male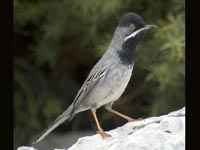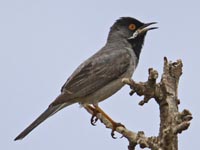 Warbler,_Sardinian
Sylvia melanocephala
Found: southern Europe, northern Africa Image by: 1)
Ximo_Galarza
2)
Juan_Emilio
- Canary Islands 3)
Warbler,_Sardinian
4)
Jan_Svetlik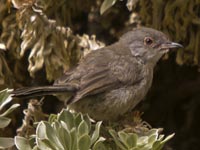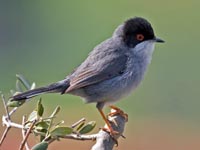 Warbler,_Subalpine
Sylvia cantillans
Found: southern Europe, northwest Africa Image by: 1)
Gary_Clark
2)
Rodrigo_Saldanha
- Portugal 3)
Michael_Sveikutis
1, 2) Female 3) Male
Warbler, Chestnut-vented
also
Rufous-vented Warbler
Sylvia subcaerulea
Found: Africa Image by: 1)
Alan Manson
- South Africa 2)
Cristiano Crolle
- Solitaire, Namibia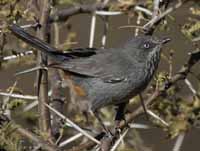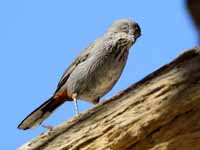 Warbler, Dartford
Sylvia undata
Found: western Europe, northwest Africa Image by: 1)
Paul Roberts
- Wales 2)
TonyC
3)
J Dietrich
- Spain 4)
Arturo
- Spain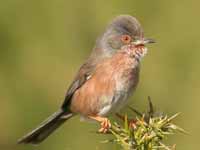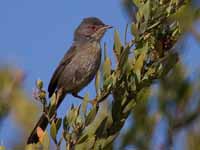 Warbler,_Eastern_Orphean
Sylvia crassirostris
Found: southeast Europe, northeast Africa; southwest Asia Image by: 1) Michael_Sveikutis
Warbler, Garden
Sylvia borin
Found: Europe, Asia, Africa Image by:
BillyBoy
Warbler,_Layard's
Sylvia layardi
also
Curruca layardi
Found: Lesotho, Namibia, South Africa
Image by: 1)
Francesco_Veronesi
- South Africa
Warbler, Spectacled
Sylvia conspicillata
Found: Europe, Africa Image by:
1,
2,
3) Juan Emilio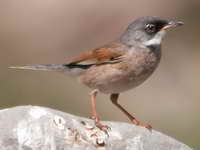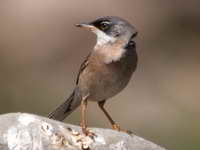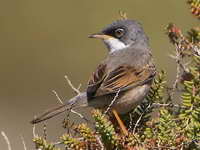 Warbler,_Tristram's
Sylvia deserticola
Found: Algeria, Libya, Mauritania, Morocco, Tunisia
Image by: 1)
John_Gerrard_Keulemans
2)
Stephen_Davis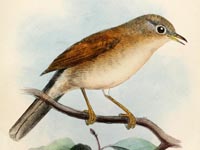 Warbler,_Western_Orphean
Sylvia hortensis
Found: western Europe to northwest Africa Image by: 1)
Agustin_Povedano
- Spain 2) Ximo_Galarza
1) Juvenile 2) Male
Warbler,_Yemen
Sylvia buryi
Found: Saudi Arabia, Yemen Image by: 1)
Hanne and Jens Eriksen
Whitethroat, Common
also
Greater Whitethroat
Sylvia communis
Found: Europe, Asia, Africa Image by: 1)
Steve Garvie
- Scotland 2)
Charlie Westerinen
- Victoria falls, Zimbabwe 3) Maggiore Lake, Italy
Whitethroat,_Desert
Sylvia minula
Found: Asia Image by: 1)
Kishore_Bhargava
Whitethroat,_Hume's
Sylvia althaea
Found: Asia Image by: 1)
JM_Garg
Whitethoat,_Lesser
Sylvia curruca
Found: Asia, Europe Image by: 1)
Martin_Mecnarowski
2)
Aaron_Maizlish
Whitethroat,_Margelanic
Margelanic Whitethroat
Found: China
Image by: 1)
StephenDavis