The
trogons
and quetzals are birds in the order Trogoniformes which contains only one family, the Trogonidae. The word "trogon" is Greek for "nibbling" and refers to the fact that these birds gnaw holes in trees to make their nests. They feed on insects and fruit, and their broad bills and weak legs reflect their diet and arboreal habits. Although their flight is fast, they are reluctant to fly any distance. Trogons have soft, often colourful, feathers with distinctive male and female plumage.
The majority of trogons are birds of tropical and subtropical forests. They have a cosmopolitan distribution in the worlds wet tropics, being found in the Americas, Africa and Asia. A few species are distributed into the temperate zone, with one species, the Elegant Trogon, reaching the south of the United States.
Trogon, Narina
Apaloderma narina
Found: Africa Image by:
1, 2) Joseph Mochoge
- Gilgil, Kenya 3)
Peter Steward
- Kenya
1, 2) Female
Genus Euptilotis
- 1 species
Trogon, Eared
also
Eared Quetzal
Euptilotis neoxenus
Found: Arizona, Mexico Image by:
Jerry Oldenettel
- Arizona
Genus Harpactes
Trogon, Red-headed
Harpactes erythrocephalus
Found: Asia
Image by: 1)
JJ Harrison
in Thailand 2)
Frank Monnerjahn
Genus Pharomachrus
Quetzal, Resplendent
Pharomachrus mocinno
Found: South America Image by
plexycolor
Genus Priotelus
Trogon, Cuban
Priotelus temnurus
Found: Cuba Image by: 1)
Laura Gooch
- Camagüey Province, Cuba 2)
Blake Maybank
3)
Dominic Sherony
Genus Trogon
Trogons have distinctive male and female plumages, with soft, often colourful, feathers.
Trogon, Black-tailed
Trogon melanuru
Found: South America
Image by: 1)
Cláudio Timm
- the Amazon, Brazil 2)
Brian Ralphs
Trogon, Black-throated
Trogon rufus
Found: South America Image by: 1)
Dick Daniels
-
Soberania National Park, Panama
2,
3) Frank Vassen
4)
Jerry_Oldenettel
- Costa Rica 5)
Michelle Reback
- Costa Rica
1, 2) Female 3, 4, 5) Male
Trogan, Collared
Trogon collaris
Found: South America Image by: 1)
Dominic Sherony
2)
New Jersy Birds
Trogon, Elegant
Trogon elegans
Found: North America and Central America Image by:
1.
2.
3 Dominic Sherony
1, 2) Male 3) Female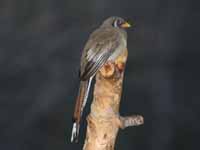 Trogon, Gartered
Trogon caligatus
Found: Central and Soutn America Image by:
1,
2,
3) Dominic Sherony
- Honduras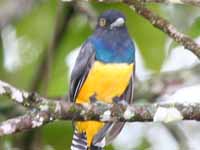 Trogon, Green-backed
Trogon viridis
Found: eastern South America Image at the
National Aviary
by:
1,
2,
3) Dick Daniels
4)
Sandy Cole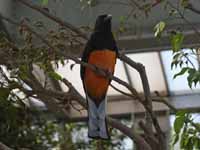 Trogon, Masked
Trogon personatus
Found: South America Image by: 1)
Santiago Bejarano
2)
Rogier Klappe
- Columbia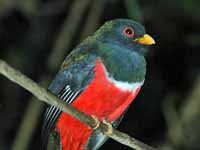 Trogon, Orange-bellied
Trogon aurantiventris
Found: South America
Image by; 1)
Michael Woodruff
Trogon, Slaty-tailed
Trogon massena
Found: Central America and South America Image by: 1)
Dominic Sherony
- Panama 2)
John Norton
3)
Len Blumin
- Costa Rica
2, 3) Male
Trogon, Surucua
Trogon surrucura
Found: South America
Image by:
1) Cláudio Timm
- Rio Grande do Sul, Brazil
2,
3) Dario Sanches
- Brazil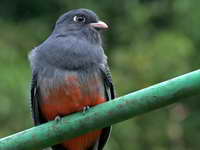 Trogon, Violaceous
also
Guianan Trogon
Trogon violaceus
Found: South America Image by: 1) Image by
Frank Vassen
- Costa Rica
2,
3) Dick Daniels
-
Soberania National Park, Panama
1) Female
2, 3) Male
Trogon,_White-tailed
Trogon chionurus
Found: Panama to western Columbia and Ecuador Image by: 1)
Mdf
- Panama
2,
3,
4
) Dick Daniels
- Woodland Park Zoo, Seattle
1) Female 2, 3, 4) Male