RAPTORS of South America
Raptors are carnivorous. They hunt by sight during the day, are long lived, and have low reproductive rates. The catch their prey via strong claws – three pointing forward and one pointing backward. The raptors that hunt by day are: hawks, eagle, buzzards, harriers, kites, vultures, falcons, caracaras. Owls hunt by night. Raptors are also called birds of prey.
New World Vultures
Order Accipitriformes Family Cathartidae
The order
Accipitriformes
contains the diurnal (active during the day) birds of prey: hawks, goshawks, eagles, kites, vultures, ospreys, secretary birds. These birds have sometimes been considered part of the Falconiformes which contains the falcons, but DNA evidence indicates the orders should be separate.
The
Cathartidae
family contains the New World vultures. They are not closely related to Old World Vultures. They resemble each other because of convergent evolution. Vultures in general feed on dead animals. They tend to have bald heads to minimize the feathers that get contaminated from carrion. New World Vulture have a good sense of smell which they use to help locate their meals.
Genus Cathartes
Vulture, Greater Yellow-headed
Cathartes melambrotus
Found: South America Image by:
1)
Charlie Westerinen
2,
3) Dave Curtis
- Guyana
Vulture, Lesser Yellow-headed
Cathartes burrovianus
Found: Central and South America Image by: 1)
Cláudio Timm
- Rio Grande do Sul, Brazil 2)
Lip Kee Yap
- Ibera Marshes, Argentina 3)
Cristiano Crolle
- Esteros del Iberà, Argentina 4)
Jerry Oldenettel
- Belize 5)
Dilson Santos
- Brazil 6)
Patty McGann
- Belize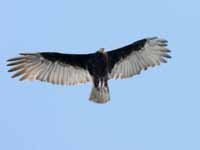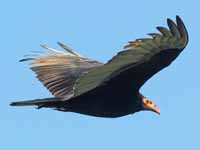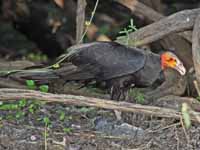 Vulture, Turkey
also
Turkey Buzzard
Cathartes aura
Found: The Americas Image by: 1)
Dori
- Florida 2)
Ken Slade
- Texas 3)
Cristiano Crolle
- Esteros del Iberà, Argentina
4, 5, 6)
Dick Daniels
- North Carolina
7,
8) Dick
-
Carolina Raptor Center
7, 8) Leucistic Turkey Vultures (that is, whitish Turkey Vultures)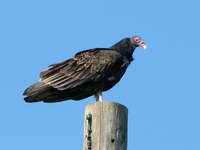 Genus Coragyps
- 1 species
Vulture, Black
also
American Black Vulture
Coragyps atratus
Found: The Americas Image by:
1,
6) Dick Daniels
- Florida 2)
Dick
- Ecuador
3)
Sandy Cole
-
Flamingo Gardens
in Florida 4)
Charlie Westerinen
5)
Dick
- South Carolina
7,
8,
9) Dick Daniels
- Pedasi, Panama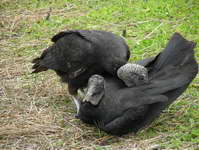 Genus Sarcoramphus
- 1 species
Vulture, King
Sarcoramphus papa
Found: South America Image by: 1)
Eric Kilby
- Washington National Zoo 2)
B Miry
3)
William Wan
4)
Barloventomagico
- Venezuela
Genus Vultur
- 1 species
Condor, Andean
Vultur gryphus
Found: South America Image by: 1)
Nathan Rupert
2)
Dick Daniels
-
National Aviary
3)
Drriss and Marrionn
4)
Dick
- near Urubamba, Peru