CARDINALIDAE of South America
The Cardinalidae are a family of passerine birds found in North and South America. The family is comprised of buntings, cardinals, and grosbeaks. However, each of these categories of birds have similary named birds in other families. The birds of this family are robust, seed-eating birds with strong bills. The family ranges in size from 12-25 cm. They are typically associated with open woodland. The sexes are dimorphic - they usuaully have distinctive appearances.
Cardinals and Allies
Order Passeriformes Family Cardinalidae
Other Cardinal-like birds belong to
Family Thraupidae.
Genus Cardinalis
Cardinal, Vermilion
Cardinalis phoeniceus
Found: Columbia, Venezuela Image by: 1)
Joseph Smit
2)
Mathdesm
- Venezuela 3)
Fir Z
- Venezuela
Genus Chlorothraupis
Tanager, Ochre-breasted
Chlorothraupis stolzmanni
Found: Columbia, Ecuador Image by: 1)
Michael Woodruff
- Ecuador 2)
Julian Zuleta
- Columbia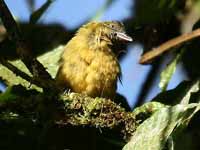 Tanager, Olive
also
Carmiol's Tanager
Chlorothraupis carmioli
Found: Central America and northern South America Image by: 1)
John Gerrard Keulemans
2)
Olive Tanager
- Costa Rica 3)
David Rodriguez
- Costa Rica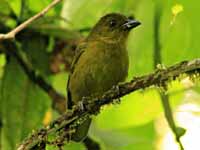 Genus Habia
Ant-tanagers are long-tailed and strong billed birds. Males have a red crest and plumage containing red, brown or sooty hues. Females may resemble the males or be largely yellowish or brown in color. Theeat ants and other insects plus occasionally fruit. The female alone builds a cup nest and incubates the two or three eggs. The young leave the nest before they can fly and hide in dense vegetation. Ant-tanagers have harsh call notes but musical whistled songs.
Tanager, Crested Ant-
Habia cristata
Found: Columbia Image by: 1)
Francesco Veronesi
- Columbia 2)
Ron Knight
- Columbia
Tanager, Red-crowned Ant-
Habia rubica
Found: Mexico south to Paraguay and northern Argentina, and on Trinidad. Image by: 1)
Dani e Iron
2)
Claudio Timm
3)
Hector Bottai
- Brazil
1, 2) Female 3) Male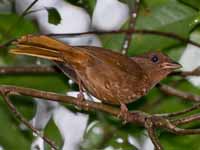 Tanager, Sooty Ant-
Habia gutturalis
Found: Columbia Image by: 1)
Robert Lewis
Genus Piranga
Tanager, Hepatic
Piranga flava
Found: Southwestern USA to northern Argentina Photograhed by:
1,
4) Cláudio Timm
- Cabo Polonio, Uruguay 2)
Jerry Oldenettel
- Costa Rica 3)
Dominic Sherony
5)
Blake Matheson
- Arizona
1, 2, 3) Female 4, 5) Male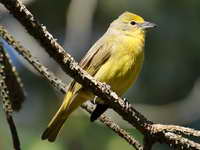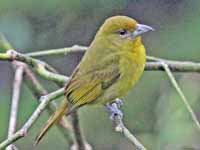 Tanager, Scarlet
Piranga olivacea
Found: eastern North America to northwest South America
Image by: 1)
Kelly Colgan Azar
2)
Jamie Chavez
- California
3,
4,
5) Jerry Oldenettel
6)
Len Blumin
- Florida
7)
Dick Daniels
- Panama
1) Juvenile or female 3) Nonbreeding male 4 - 7) Breeding male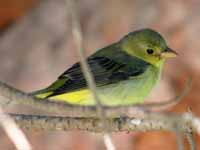 Tanager, Summer
Piranga rubra
Found: southern USA to northern South America Image by: 1)
Paula McVann
- Missouri 2)
Pamela Wilson
3)
Julian Londono
- Manizales, Caldas, Colombia 4)
Dominic Sherony
5)
New Jersey Birds
6)
Dick Daniels
- Ecuador
1, 2) Female 3, 4, 5, 6) Male
Tanager, White-winged
Piranga leucoptera
Found: Mexico, Central America, South America Image by: 1)
Michael Woodruff
- Ecuador 2)
Fernando Flores
- Venezuela 3)
Amy McAndrews
- Mexico
1) Female 2) Male