RAPTORS of North America
Raptors are carnivorous. They hunt by sight during the day, are long lived, and have low reproductive rates. The catch their prey via strong claws – three pointing forward and one pointing backward. The raptors that hunt by day are: hawks, eagle, buzzards, harriers, kites, vultures, falcons, caracaras. Owls hunt by night. Raptors are also called birds of prey.
Falcons and Allies
Order Falconiformes Family Falconidae
The
Falconidae
family contains the
falcons, kestrels, caracaras
. These are small to medium sized diurnal raptors. They differ from the hawks and their allies by the way they kill their prey. They use their beaks instead of their feet.
Falconiformes
have a hooked bill with a cere (soft mass) near the base. They have long broad wings for soaring. Females are bigger than males.
Genus Caracara
Caracara, Crested
also
Northern Crested Caracara
Caracara cheriway
Found: The Americas Image by: 1)
Edwin Delorzo
- Costa Rica 2)
Richard Broekhuijzen
- Antwerp Zoo 3)
Sebastian Niedlich
- Berlin Zoo 4)
Sandy Cole
-
Flamingo Gardens
in Florida 5)
Alan D. Wilson
- Texas 6)
Bill Bouton
- California 7)
Mathew Paulson
- Florida
1) Juvenile
Genus Falco
Falcon, Aplomado
Falco femoralis
Found: southwest USA to South America Image by: 1)
Jerry Oldenettel
- Texas
2, 3)
Elaine R Wilson
- Texas
4)
Charlie Westerinen
- Boise Raptor Center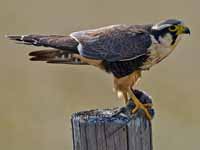 Falcon, Bat
Falco rufigularis
Found: Mexico to South America, Trinidad Image by: 1)
Julian Londono
- Columbia 2)
Alan Hopkins
- Guyana 3)
Jorge Montejo
- Mexico
Falcon, Orange-breasted
Falco deiroleucus
Found: Mexico to northern Argentina Image by:
1) Patty McGann
- Belize 2)
Dominic Sherony
- Belize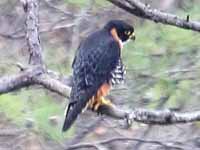 Falcon, Peregrine
Falco peregrinus
Found: Almost everywhere Image by: 1)
Len Blumin
- California 2)
Richard Droker
- Washington
3,
4) Dick Daniels
-
Eagle Encoumters
, South Africa 5)
Dick
- Sunset Beach, North Carolina
6,
7,
8,
9) Dick
-
Carolina Raptor Center
10)
Larry Meade
- Florida 11)
Bill Bouton
- California 12)
Cristiano Crolle
- Knysna, South Africa
1) Fledgeling 2, 11) Juvenile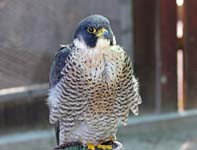 Falcon, Prairie
Falco mexicanus
Found: arid western North America Image by: 1)
Dominic Sherony
2)
Bill Bouton
- California 3)
Jerry Oldenettel
- New Mexico 4)
Matt MacGillivray
5)
US Geological Survey
6)
Linda Tanner
7)
Shawn McCready
- Alberta 8) Dick Daniels
1) Juvenile 8) Prairie Falcon - Gyrfalcon hybrid (identified by Stephen Schabel)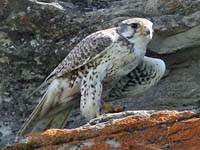 Gyrfalcon
Falco rusticolus
Found: North America, Europe, Asia Image by: 1)
Emma Bishop
- Manitoba, CA 2) ChrisDupe - Washington 3)
Tim Hickok
4)
Patries71
5) Charlie Westerinen - Boise Raptor Center
6,
7) Ómar Runólfsson
- Iceland
Kestrel, American
Falco sparverius
Found: The Americas Image by: 1)
Len Blumin
- California 2)
Jack Wolf
- California
3)

Dick Daniels
- North Carolina
4)
Dick
- Puerto Rico 5)
Sandy Cole
-
Flamingo Gardens
in Florida 6)
Dick
-
Center for Birds of Prey
, Charleston, South Carolina
7,
8,
9) Dick
-
Carolina Raptor Center
10)
Dick
- Jamaica
1, 2, 3) Female 4 -10) Male
Merlin
Falco columbarius
Found: North America, Europe, Asia Image by: 1)
Omarrun
- Iceland 2)
Len Blumin
- California
3)
Dick Daniels
- North Carolina 4)
Jerry Oldenettel
- New Mexico 5)
Raj Boora
- Alberta, Canada 6)
Alan D. Wilson
1, 2) Taiga, female 4) Praire, male 5) Praire, female