In addition to cuckoos, the
cuckoo
family Cuculidae also includes the roadrunners, koels, malkohas, couas, coucals and anis. The coucals and anis are sometimes separated as distinct families. The cuckoos are generally medium sized slender birds. The majority are of the cuculidae family are arboreal, with a sizeable minority that are terrestrial. Most are tropical and the temperate species are migratory. The cuckoos feed on insects, insect larva, as well as fruit. Many species are brood parasites, laying their eggs in the nests of other species, but the majority of species raise their own young. Cuckoos are medium sized birds that range in size from 15-63 cm. There is generally little sexual dimorphism in size, but where it exists, it can be either the male or the female that is larger. There are two basic body forms, arboreal species which are slender and have short tarsi, and terrestrial species which are more heavy set and have long tarsi. Almost all species have long tails which are used for steering in terrestrial species and as a rudder during flight in the arboreal species.
Genus Coccyzus
These cuckoos generally build their own nest and raise their young, Some species occasionally lay eggs in the nests of others.
Cuckoo, Black-billed
Coccyzus erythropthalmus
Found: The Americas
Image by: 1)
Big Dipper 2
2)
Bob Hall
3)
Wolfgang Wander
4)
Dave Inman
- Pennsylvania 5) Henry McLin - Pennsylvania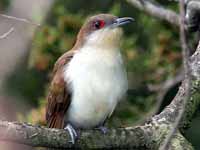 Cuckoo, Mangrove
Coccyzus minor
Found: south Florida to north Brazil Image by: 1)
New Jersy Birds
2)
Rachel Frieze
, USFWS - Florida 3)
Henry Plank
- Saint Martin
4)
Mario Davalos
- Dominican Republic 5)
birdphotos.com
- Costa Rica 6)
Mark Stevens
- Antigua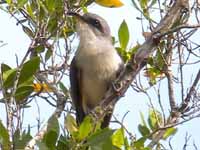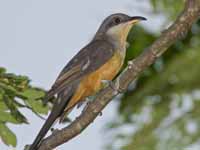 Cuckoo, Yellow-billed
Coccyzus americanus
Found: The Americas Image by: 1)
Seabrooke Leckie
2)
Phil Brown
- Parker River NWR, Massachuestts
3)
Mdf
- Bruce Peninsula National Park, Canada 4)
Dick Daniels
- North Carolina 5)
Dominic Sherony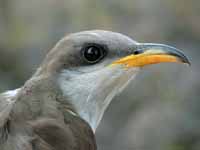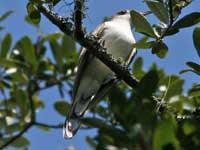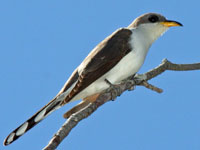 Genus Crotophaga
The three ani species live in the tropical Americas. The anis are not brood parasites, but nest communally, the cup nest being built by several pairs in a tree. A number of females lay their eggs in the nest and then share incubation and feeding.
Ani, Groove-billed
Crotophaga sulcirostris
Found: North America (Texas), Central and South America Image by: 1)
Jerry Oldenettel
- Mexico 2)
Hans Hillewaert
- Costa Rica 3) Pablo Leautard - Mexico
Ani, Smooth-billed
Crotophaga ani
Found: North America (Florida), Central and South America Image by:
1,
2) Dick Daniels
- Royal Palm Reserve, Jamaica 3)
Dick
- Puerto Rico 4)
Dick
- Pedasi, Panama
Genus Dromococcyx
They have strikingly graduated tails, and are among the few cuckoos of the Americas that are brood parasites (the only other is the Striped Cuckoo).
Cuckoo, Pheasant
Dromococcyx phasianellus
Found: Mexico, Central America, South America Image by: 1)
Dominic Sherony
- Panama 2)
Jorge Montejo
Genus Geococcyx
There are two roadrunner species. They raise their own young.
Roadrunner, Greater
Geococcyx californianus
Found: southwest USA, Mexico Image by: 1)
Alan D Wilson
- Borrego Springs, California 2)
Elaine R Wilson
- Borrego Springs, California 3)
Dick Daniels
-
North Carolina Zoo
,
4,
5,
6) Dick
- Tuscon, Arizona
4) Note lizzard in the mouth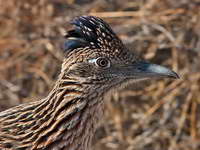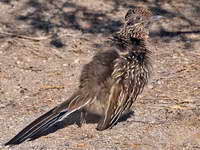 Roadrunner, Lesser
Geococcyx velox
Found: Mexico and Central America Image by: 1)
LaHomma Simmons
2)
Jorge Montejo
- Mexico
Genus Morococcyx
- 1 species
Cuckoo, Lesser Ground-
Morococcyx erythropygus
Found: Mexico, Central America Image by:
1,
2) Dominic Sherony
- Mexico 3)
Francesco Veronesi
- Mexico