CORVIDAE of North America
The Corvidae family contains the crows, ravens, rooks, jackdaws, jays, magpies, treepies, choughs and nutcrackers. They are considered the most intelligent of the birds. They are medium to large in size, with strong feet and bills, and a single moult each year (most passerines moult twice). Most species have bristle-like feathers covering their nostrils. They are omnivores having a varied diet. Corvids are found worldwide except for the tip of South America and the polar ice caps.
Crows, Ravens, Rooks
Order Passeriformes Family Corvidae
Genus Corvus
The genus Corvus consists of large birds that are are either black all over, or mainly black with white or gray patches. They range in size from the relatively small Jackdaws to the very large Common Raven. The 40 or so members of this genus occur on all continents except South America and Antarctica.
Crow, American
Corvus brachyrhynchos
Found: North America Image by: 1)
Jrockley
2,
4,
9)
Dick - North Carolina 3)
Dick
- Maine 5)
Ingrid Taylor
- Washington 6)
Mdf
- Ontario 7)
Dick
- San Diego 8
Dick
- New Hampshire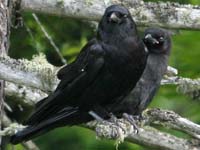 Crow, Fish
Corvus ossifragus
Found: east and south North America Image by:
1) Steve Nova
2)
Phil Brown
- Lawrence, Massachusetts 3)
e monk
- North Carolina 4)
Diane Hamilton
- New Jersey 5)
Dick Daniels
- North Carolina
Crow, Northwestern
Corvus caurinus
Found: Pacific coastal area from Washington to Alaska Image by: 1)
Steve Nova
2)
Alan D Wilson
3)
Elaine R Wilson
- near Victoria, British Columbia 4)
Dick Daniels
- Seward, Alaska
5,
6,
7) Dick
- Homer, Alaska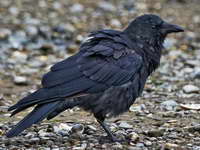 Crow, Sinaloa
Corvus sinaloae
Found: Mexico Image by: 1)
Steve Nova
2)
Dominic Sherony
Crow, Tamaulipa
s
Corvus imparatus
Found: North America (Texas), northern Mexico Image by:
1,
2) Steve nova
3)
Jerry Oldenettel
- Texas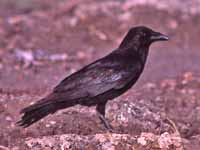 Jackdaw
also
Eurasian Jackdaw
also
Western Jackdaw
Corvus monedula
Found: northeast North America (vagrant), Europe, Asia, Africa Image by: 1)
Sergey Yeliseev
- Moscow region
2)
Charlie Westerinen
3)
Placid Casual
4)
Maxwell Hamilton
- England 5)
Dick Daniels
- Scotland 6)
Lip Kee
- Italy 7)
Olivier Klein
- Netherlands
1) Juvenile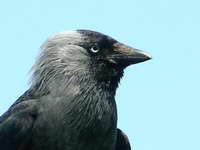 RAVENS
A raven is one of several larger-bodied members of the genus Corvus. Most have black plumage and large beaks but their plumage can differ slightly in some species. Most species have dark brown irises but a few in Australia have white irises.
Raven, Chihuahuan
Corvus cryptoleucus
Found: The Southwest USA, Mexica Image by: 1)
Steve Nova
2,
3) Quinn Dombrowski
- Arizona 4)
Jerry Oldenettel
- Arizona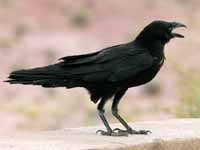 Raven, Common
Corvus corax
Found: North America, Europe, Asia, Africa Image by: 1)
Hogroth
2)
Dick Daniels
- Arizona
3,
4,
45) Dick
- Wyoming 6) Dick - Napel 7)
Dick
- California