The
true finches
of family
Fringillidae
are predominantly seed-eating songbirds. They vary from 9-23 cm. They typically have strong, stubby beaks, which in some species can be quite large. Finches are usually are inhabitants of well-wooded areas, but some can be found on mountains or even in deserts. True finches have a bouncing flight like most small passerines, alternating bouts of flapping with gliding on closed wings. The nests are basket-shaped and usually built in trees.
They are not closely related to the
Estrildid Finches
.
Genus Hemignathus
These Hawaiian Honeycreepers have a mixture of bill size and shapes perhaps indicating the genus should be split. All bills are curved to some extent.
Akiapolaau
Hemignathus munroi
Found: Big Island of Hawaii Image by: 1)
USFWS
Amakihi, Hawaii
Hemignathus virens
Found: Hawaii Image by: 1)
USFWS
2)
James Brennan
Amakihi, Kauai
Hemignathus kauaiensis
Found: Kauai (Hawaii)
Image by: 1)
Benjaminkeen
2)
Jim Denny
Amakihi, Oahu
Hemignathus flavus
Found: Oahu (Hawaii)
Imqge by: 1)
Tsuru8
2)
Chuck Jensen
1) Winter plumage
Genus Himatione
-1 species
Apapane
Himatione sanguinea
Endemic to Hawaii Image by: 1)
USFWS
2,
6) Johnida Dockens
3)
Papa Marina's
4)
Dick Daniels
- Maui 5)
Jerry Oldenettel
- Haleakala National Park, Maui 7)
Caleb Simmons
- Ohia 8)
Dick Daniels
1, 2) Juvenile 3) Pair 4) Adult male 8) Not an Apapane - will be moved shortly.
Genus Loxioides
- 1 species
Palila
Loxioides bailleui
Found: Big Island of Hawaii Image by: 1)
John Gerrard Keulemans
2)
USGS
3)
Pat and Keith Taylor
- Mauna Kea Forest Reserve, Hawaii 4)
Caleb Slemmons
Genus Loxops
Akekee
Loxops caeruleirostris
Found: Kauai Image by: 1)
Porter
2)
Jim Denny
Akepa
Loxops coccineus
Found: Hawaii Image by: 1)
John Gerrard Keulemans
2)
USFWS
Genus Magumma
- 1 species
Anianiau
Magumma parva
Found: high elevations of Kauai (Hawaii) Image by: 1)
Jim Denny
2)
USWGS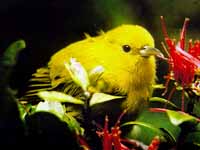 Genus Oreomystis
Akikiki
Oreomystis bairdi
Found: Kauai (Hawaii) Image by: 1)
Carter Atkinson
Creeper, Hawaii
Oreomystis mana
also
Loxops mana
Found: Big Island of Hawaii
Image by: 1)
Carter Atkinson
2)
Robert Brown
Genus Palmeria
- 1 species
Akohekohe
Palmeria dolei
Found: Maui (Hawaii) Image by: 1)
USGS
Genus Pseudonestor
- 1 species
Parrotbill, Mau
i
Pseudonestor xanthophrys
Found: Maui in Hawaii
Image by: 1)
Frederick Frohawk
2)
Dysmorodrepanis
3)
Jim Denny
2) Female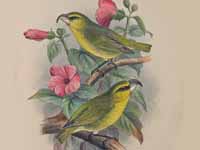 Genus Telespiza
Finch, Laysan
Telespiza cantans
Found: Hawaiian islands
Image by: 1)
USFWS
2)
Allen Smith
Finch, Nihoa
Telespiza ultima
Found: Hawaiian islands Image by: 1)
Stewart Fefe
2)
GrrlScientist
Genus Vestiaria
- 1 species
I'iwi
also
Iiwi
Vestiaria coccinea
Found: Hawaii Image by: 1)
USFWS
2)
Quelle Jeffery
- USFWS 3)
Jacob Frank
- Haleakala National Park, Maui 4) Don Metzner