GRUIFORMES of Europe
The order Gruiformes contains a considerable number of living and extinct bird families with little in common. In fact, birds have been placed in this order just because it was not clear where else to put them! The rails, cranes, and limpkin are related and are considered part of the true Guiformes. However, the Bustards are unrelated to these true Guiformes.

Coots, Moorhens
Order Gruiformes Family Rallidae
The
coots
and
moorhens
of the
Railidae family
generally occupy dense vegetation in damp environments near lakes, swamps, or rivers. They are omnivores. Most nest in dense vegetation. Most species walk and run vigorously on strong legs, and have long toes which are well adapted to soft, uneven surfaces. Some coots and gallinules have a "frontal shield", which is a fleshy rearward extension of the upper bill. The flight of those Rallidae able to fly, while not very powerful, can be sustained for long periods of time and many species undertake annual migrations.
Genus Fulica
Coots have prominent frontal shields or other decoration on the forehead, with red to dark red eyes.. Many, but not all, have white on the under tail. They have long, lobed toes that are well adapted to soft, uneven surfaces. Coots have strong legs and can walk and run vigorously. They tend to have short, rounded wings and are weak fliers, though northern species nevertheless can cover long distances.
Coot, Eurasian
also
Coot
Fulica atra
Found: Europe, Asia, Africa, Australia, New Zealand Image by:
1,
2,
3,
4)
Dick Daniels - England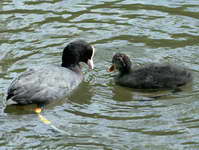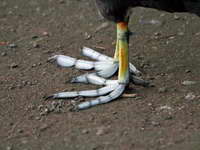 Coot, Red-knobbed
Fulica cristata
Found: southern Europe, Africa Image by:
1,
2) Dick Daniels
-
World of Birds
- South Africa 3) Craig Adam -South Africa 4)
Shankar S
- Kenya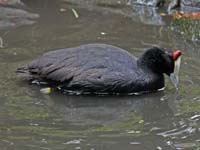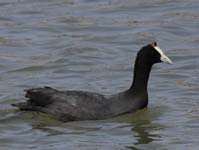 Genus Gallinula
Moorhen, Eurasian
Gallinula chloropus chloropus
Found: Europe, Asia Image by:
1,
3) Dick
- England 2)
Cristiano Crolle
- Racconigi, Italy 4)
Valter Jacinto
- Portugal
1) Chick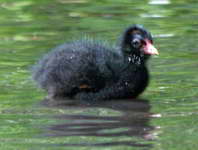 Genus Porphyrio
Porphyrio
contains the gallinules and swamphens.
Swamphen, Purple
also
Pukeko
Porphyrio porphyrio
Found: Europe, Asia, Africa, Australasia, introduced - Florida Image by:
1,
2) Richard Taylor
- Australia
3,
4,
5) Dick Daniels - Australia
6,
8) JJ Harrison
- Australia 7)
Craig Adam
- South Africa
1) Juvenile
7)
P. p. poliocephalus