GALLIFORMES of Europe
Galliformes are heavy-bodied ground-feeding domestic or game birds. Most are plump-bodied with thick necks and moderately long legs, and have rounded and rather short wings. They do not fly well if at all, but walk and run instead for transportation. These birds vary greatly in size from 12-120 cm. Many adult males have one to several sharp horny spurs on the back of each leg, which they use for fighting. They can be found worldwide and in a variety of habitats, including forests, deserts, and meadows. Male courtship behavior includes elaborate visual displays of plumage. Gallinaceous birds feed on a variety of plant and animal material, which may include fruits, seeds, leaves, shoots, flowers, tubers, roots, insects, snails, worms, lizards, snakes, small rodents, and eggs.
Some of the Gallifrom families:
Cracidae
: chachalac, curassow, guan.
Numididae
: Guineafowl
Odontophoridae
: New World Quail
Phasianidae
: francolin, grouse, partridge, pheasant, Old World quail.
Grouse
Order Galliformes Family Phasianidae
Grouse
inhabit temperate and subarctic regions of the northern hemisphere. They are heavily built like other Galliformes and range from 31-95 cm. Their legs are feathered to the toes, and in winter the toes too have feathers or small scales on the sides, an adaptation for walking on snow and burrowing into it for shelter. Unlike other Galliformes, they have no spurs. All grouse spend most of their time on the ground, though when alarmed, they may take off in a flurry and go into a long glide. These birds feed mainly on vegetation—buds, catkins, leaves, and twigs. Several of the forest-living species are notable for eating large quantities of conifer needles, which most other vertebrates refuse.
Genus Tetrao
Grouse, Black
Tetrao tetrix
Found: Europe, Asia Image by:
1,
3) Steve Garvie
- Scotland 2)
Jniemenmaa
1) Female 2) Male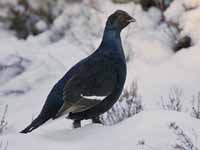 Capercaillie
, Eurasian
also
Wood Grouse
Tetrao urogallus
Found: Europe, Asia Image by: 1)
Honza Sterba
2))
Woodwalker
3)
David Palmer
- Germany 4)
Richard Bartz
1) Female
2, 3, 4) Male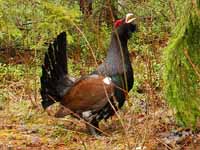 Genus Tetrastes
Grouse,_Hazel
Tetrastes bonasia
also
Bonasa bonasia
Found: Europe, Asia Image by: 1)
John_Gould
2,
3) Tatiana_Bulyonkova
4)
Sergey_Yeliseev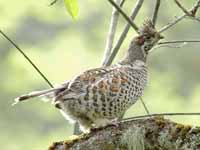 Ptarmigans
belong to genus
Lagopus
. There are three species: the rock, white-tailed, and willow ptarmigans. The red ptarmigan was once considered a seperate species, but now is considered a subspecies of the willow ptarmigan. All of the species are circumpolar. Part or all of their plumage becomes white in the snow season to provide camouflage. As with game birds in general, most of the care of the young is done by the females.
Genus Lagopus
Ptarmigan, Rock
Lagopus muta
Found: northern North America, Europe, Asia Image by: 1)
Jan Frode Haugseth
- Norway
2,
3) Alpsdake
1) Spring plumage, female in front 2) Female 3) Male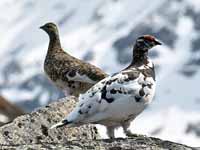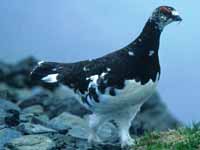 Ptarmigan, Willow
also
Willow Grouse
Lagopus lagopus
Found: northern North America, Europe, Asia Image by: 1)
Derek Ramsey
2)
Joe Dsliva
3)
Dick Daniels
- Denali National Park 4)
Travis S
- Denali
4) Male
Grouse, Red
also
Red Ptarmigan
Lagopus lagopus
scoticus
Found: Great Britain
Once considered a separate species, now a subspecies of the willow grouse.
Image by:
1)
Dick Daniels
- Scotland 2)
Andrew
- England