GULLS and Allies of Africa
Gulls, terns, skimmers, skuas, puffins, and their allies belong to the order Charadriiformes and suborder Lari. In general they take food from the sea. Charadriiformes also contains the sandpipers, plovers and their allies. They are in suborder Charadrii and often feed along the shoreline. It is a matter of debate whether the coursers and pratincoles belong with the gulls or with the sandpipers.
SKUAs
Order Charadriiformes Suborder Lari Family Stercorariidae
Skuas are in general medium to large birds, typically with gray or brown plumage, often with white markings on the wing. On average, a skua is about 56 cm and 121 cm across the wings. They have longish bills with a hooked tip, and webbed feet with sharp claws. They look like large dark gulls. The skuas are strong, acrobatic fliers. They are generally aggressive in disposition. Potential predators who go near their nest will be quickly dived at by a parent skuas. They will chase gulls, terns and other seabirds to steal their catches, regardless of the size of the species attacked (up to 3 times heavier than the attacking skua). The larger species also regularly kill and eat adult birds. On the breeding grounds they commonly eat the eggs and young of other birds. [abstracted from Wikipedia]
Genus Stercorarius
Skua, Brown
Stercorarius antarcticus
Found: South America, Afica, south Asia, and the Antarctic Region
Su Yin Khoo
- Australia
2,
3) David Cook
- Australia 4)
Winfried_Bruenken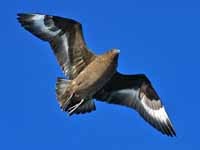 Skua, Great
Stercorarius skua
Found: The Americas, Europe, Asia, Africa
. It is streaked gray-brown with a dark cap. It is closely related to the Brown Skua and Chilean Skua.
Dick Daniels
- Featherdale Wildlife Park, Australia
2,
4) Andreas Trepte
3)
Bill Bouton
- Scotland 5)
Dick
- Scotland 6)
Charlie
Westerinen
- close to Surtsey Island at Iceland
1) Juvenile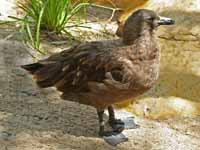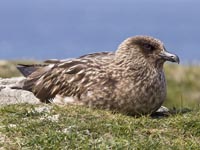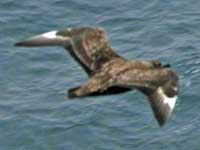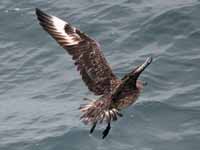 Skua, Long-tailed
also
Long-tailed Jaeger
Stercorarius longicaudus
Found: The Americas, Europe, Asia, Africa, Australia
1,
2) Marcel Holyoak
- California 3)
Jerzy Strzelecki
Stephen Clegg
- Norway
5,
6)
US of the Fish and Wildlife Service
1, 2) Juvenile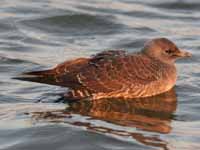 Skua, Parasitic
also
Arctic Skua
also
Parasitic Jaeger
Stercorarius parasiticus
Found: North America, Europe, Asia, Africa, Australia
Bill Bouton
- California
2,
3) Tony Morris
5)
Arnstein Ronning
- Norway 4)
Charlie
Westerinen
- Svalbard , Norway 6)
Art Sowls
of the USFWS 7)
Per Harald Olsen
- Svalbard, Norway 8)
Indyhoose
- Handa Island, Scotland
1) Light juvenile 2, 3) Light breeding adult 8) Dark phase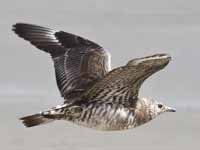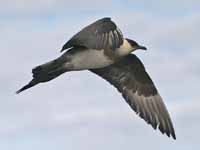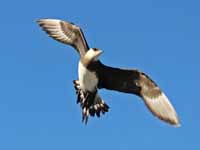 Skua, Pomarine
also
Pomarine Jaeger
Stercorarius pomarinus
Found: North America, Europe, Asia, Africa, Australia
Image by: 1)
Jomilo75
2)
Andrei Taranchenko
- Barrow, Alaska 3)
Continus
- North Carolina Gulf Stream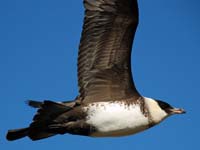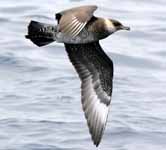 Skua, South Polar
Stercorarius maccormicki
Found: The Americas, Asia, Africa, Australia
Image by: 1)
Samuel Blanc
2)
Alistair Knock
3)
doevos
4)
Charlie Westerinen
- Niko Landing in the Antarctica 5)
Julio Mulero
- California 6)
Marcel Holyoak
- California
4, 5) Dark morph